In this article I'm going to discuss how a bridal boudoir photo shoot differs from a regular boudoir shoot. Although the two have a lot in common, there are some unique differences.
As boudoir photo shoots become more and more common with women of all ages, the rise in popularity of bridal boudoir shoots is increasing as well. It won't be long before brides everywhere will routinely schedule their bridal boudoir photo shoot right along with their bachelorette party and rehearsal dinner.
"So, What's the Difference Between Bridal Boudoir and Regular Boudoir?"
The big difference is that a bridal boudoir shoot uses elements and themes of the wedding ceremony in the images to mark the occasion of that special day.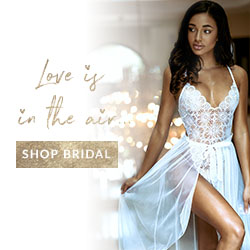 A Bridal Boudoir Shoot Uses Traditional White
In most cases, the bride-to-be is going to have the majority of her outfits and overall look of her shoot be in white, representing the white wedding dress that traditionally most brides get married in.
There's also going to be a lot of lacy elegant lingerie to represent the veil and lace that adorns many wedding dresses. This, along with the color white, symbolizes the wedding dress in a subtle way.
The Veil Is Most Often Used In Bridal Boudoir
The most popular element that is borrowed from the wedding day is the veil, if there is one, or a separate veil is used just for the shoot, again to symbolize the wedding.
The veil, more than any other element tells us immediately that this is a bridal boudoir shoot and separates itself from a regular boudoir shoot. It can also be used as a sheer see through material that tantalizes the viewer with what's obscured and not completely visible just underneath.
Other Elements Used For A Bridal Boudoir Shoot
Other common elements that are used in the shoot are the bride's garter belt, shoes, jewelry, hair adornments, and the groom's tie, top hat, or shirt with cufflinks. Using some of the groom's wardrobe is the perfect way to tell the story of the occasion in pictures, and also indicates who the pictures are for, which will certainly put a smile on his face when he sees them.
The Use Of Flowers In A Bridal Boudoir Shoot
Having the same kind of flowers that will be featured at your wedding is another way to connect your bridal boudoir shoot with your wedding, either understated in the background or something that is featured more prominently like resting on the bed or pillow.
You can even have a small bouquet that is similar to the one you're going to have when you walk down the aisle that is used in the shoot as well.
Don't Forget Your Engagement Ring!
Showing off your engagement ring either front and center or more low key is yet another way to tap into the wedding theme that your boudoir shoot is centered around. A nice close up shot of your hand tracing the outline of your lips or other body part as your ring catches the light just right always adds a nice touch.
How To Give Your Bridal Boudoir Images A Classic and Timeless Look
Convert Your Images To Black and White
There are a couple of things you can do (or rather, your photographer can do) that can give your images a classic and timeless feel. One of them is to have all your images (or just a series or two) converted into black and white.
This is a relatively simple process that can be done in Photoshop after the shoot when you've decided on the final images that you'll want to include in your album, folio box, or have framed.
If you're thinking of doing this, you must first ask your photographer if they know how to do the conversion to black and white before you book with them. You don't want to get into a situation where you've already had your session and you've got your heart set on some black and white images but your photographer doesn't know how to make that happen. I highly doubt they're going to hand over the RAW files to you and have you walk out the door to get them done elsewhere. So, make sure you know beforehand.
Shoot With A Photographer That Has Antique or Vintage Furniture
Anther way to get that classic and timeless feel is to shoot with a photographer that has antique or vintage furniture available to them where they shoot. It can even be just two or three items, like an end table, lamp, or dresser — enough pieces to give the flavor of a vintage era.
Wear Vintage or Retro Lingerie
Still another way to capture that classic timeless feel is to wear lingerie that is vintage or vintage inspired. Now, there's probably not a lot of authentic vintage lingerie that is lying around available for purchase, or undergarments of any kind for that matter from the 1920s to the 1970s — and even if there was, it's probably not in the best of shape, and even if you did happen to find something it would have to fit, but then who wants to wear someone else's old nickers! Yikes!
So, the best alternative is to find lingerie that is vintage or retro inspired that is made currently and that, I'm happy to report, is quite easy.
Just type "vintage retro lingerie" into Google, you'll find a full list of places that design, manufacture, and ship exactly what you're looking for right to your front door.
So, whether you want your bridal boudoir session to reflect the1920s, 30s, 40s, or 50s, there are plenty of places online that can cater to whatever you need.
Recapping The Timeless Vintage Look
If you utilize all three elements, or even just two of the three, of turning your images to black and white — shooting with antique or vintage furniture — and wearing vintage or retro-inspired lingerie, your bridal boudoir photo shoot will capture that timeless classic look that will commemorate your wedding in a unique and special way.
Who Shoots Bridal Boudoir Photography?
There are two types of photographers who shoot bridal boudoir. One, obviously, is your regular boudoir photographer and you can easily find one in your area by reading my article, "How To Find "boudoir photography near me" Using Google and Social Media Apps the Quick and Easy Way.
The other might be your wedding photographer. A lot of wedding photographers get asked to shoot bridal boudoir and may be able to accommodate you but not advertise that they do so on their website.
If you're not sure just ask. If they don't they may be able to refer you to one who does but beware, boudoir photography is a specialty and you'll want to go with a photographer that has experience shooting boudoir.
This is especially important when it comes to posing. A photographer who specializes in boudoir is going to be able to coach you with the most difficult part of this genre and that's the posing.
A seasoned boudoir photographer will also know which outfits will flatter your body type and which will show off your assets and also how to pose you to achieve the same effect. That alone is invaluable and can make or break your session.
Why a Bridal Boudoir Album Can Make a Great Gift for Your Groom
A bridal boudoir album can make a great gift for your groom because it's something that he'll probably never expect but fully appreciate and enjoy. It's a unique and intimate keepsake that the two of you can look back on over the years as you gracefully mature into your sixties, seventies, and eighties.
It's an extremely personal gift that is giving a part of you, a very intimate part of you, to him. The wedding is the formal ceremony that legally and publicly unites the two of you, and a bridal boudoir album is a preview of the honeymoon that will privately unite the two of you physically, emotionally, and spiritually.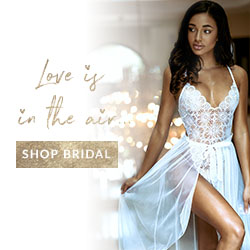 Why Bridal Boudoir Shoots Are Becoming More Popular
Boudoir photo shoots are emerging into the main stream of our culture, if they haven't arrived already, with more and more women wanting to have the experience. It makes sense that bridal boudoir follows on the heels of that and is becoming more popular as well.
But what is causing this popularity?
With the rise of social media and apps like Facebook, Instagram, Pinterest, and Snapchat we're becoming a society that tells its life stories with images instead of words — and with the ease one can snap a picture, post it, and get immediate reaction makes this even more appealing.
These images, however, are often disposable. Their lifespan is a week, a day, or in some cases just a couple of hours only to be replaced by another image, and then another, and another…
Most brides want their wedding day to be special, even extra special. That's why it takes so long to plan a wedding. There's a special dress, special food, special venue, special location, and on and on. They even hire a special wedding photographer to capture it all.
All this planning is done because the bride and groom want to create an experience that will live forever, a memory that can withstand the test of time.
Hiring a professional boudoir photographer to shoot your bridal boudoir images that you can preserve and keep in an album or in framed prints guarantees that that experience will survive the test of time.
More and more women want that now.
They want something that is not disposable, something that doesn't just exist in a phone but that's real… that's a work of art.
In Summary
As you can see, bridal boudoir differs from regular boudoir in significant and specific ways. I hope this article has shed some light on those differences and has given you ideas for your own bridal boudoir photo shoot when planning your wedding.
If you found this article helpful be sure to pass it on to someone who might find it useful as well, and if you're interested in a boudoir shoot in the southern Virginia area you can contact me through my website at…
And remember…
"Be strong, be fearless, be beautiful.
And believe that anything is possible when
you have the right people there to support you."

Charles Mitri
Visit www.BellaMitriBoudoir.com